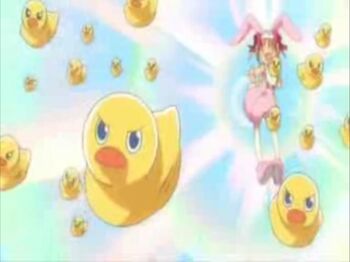 Dear Baby can use Go Go Little Duckies (ゴー!・ゴー!・リットル・ダッキーズ goo! goo! rittoru dakkiizu)to summon up an army of rubber ducks to fight or surround her enemies.
There are several different techniques they can be used for:
She can also use them to form a large, floating duck to help transport her and others.
Though they are weapons created by Yaya's Character Transformation, they seem to have minds of their own. This tends to lead to their downfall as they sometimes get scared.
GIVE ME A BREAK!!!!

This article is not completed or was introduced as a stub. Unfortunately, this article may have lack of information, vulgar interceptions, or unknown lyrics.
You can help Shugo Chara! Wiki! by expanding it.