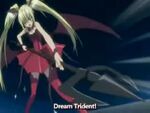 The Dream Trident is a black trident that Utau conjures up as Lunatic Charm to fight her opponent. She use it to attack Amu in Episode 42 of the anime, and once in Episode 75 to neutralize Haruki Maruyama's attack.
GIVE ME A BREAK!!!!

This article is not completed or was introduced as a stub. Unfortunately, this article may have lack of information, vulgar interceptions, or unknown lyrics.
You can help Shugo Chara! Wiki! by expanding it.