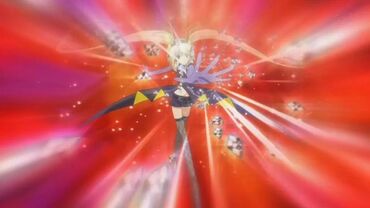 Shining Black   (シャイニング・ブラック shainingu burakku) is Utau's attack when she Character Transforms with X-Dia as Dark Jewel. She uses this attack by holding out her hands to send out sharp black diamonds at her opponents. This first appears in Shugo Chara! Episode 29. It is similar to Nightmare Lorelei because of how Utau is able to shoot multiple and powerful items to her opponents.
GIVE ME A BREAK!!!!

This article is not completed or was introduced as a stub. Unfortunately, this article may have lack of information, vulgar interceptions, or unknown lyrics.
You can help Shugo Chara! Wiki! by expanding it.