Yuu Nikaidou


General Information

Name

Yuu Nikaidou

Kanji

二階堂悠

Birthday

September 18, 1993

Blood type

A

Team

Easter Company, Seiyo Academy teacher

Sign

Virgo

Voices

Majima Junji
Patrizio Prata (Italian Dub)
Yuu Nikaidou (二階堂 悠, Nikaidō Yū) is a former employee member of Easter. In order to find the Embryo, he joined Seiyo Academy and became in charge of Amu Hinamori's class in the guise of a ditzy but kindhearted teacher. His dream, when he was a child, was to become a robot engineer. However, when his mentor quit thanks to his ill wife and his parents told him they were against the idea, he lost sight of his dream and became a twisted person, though he recovered with help from Amu and Su. He resigned from Easter Company and officially become the teacher in charge of Amu's class. A running joke is that he calls Amu Himamori, the hima meaning "leisure time".
Appearance and Personality
Yuu has orange-brown hair and wears glasses. When Yuu is in disguise he talks sweetly and is extremely clumsy. Yuu's normal-self talks seriously. During his time at Easter, he only wore glasses at school. After he left, he began wearing them permanently. He normally wears a white shirt, suit, and tie.
Relationships
Love Life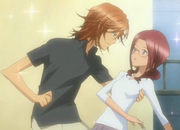 Yukari Sanjo: Yuu and Yukari were once in love, but broke up prior to the series. As revealed in chapter 45, Nikaidou does actually want to get back with Yukari. Yukari does seem to want it too but wants to hold back a little longer because she worries that Utau will get a lot of work so she wants to be available for her. Nikaidou's response to that was that "we'll be going in circles", suggesting that Utau might get promoted to another director/company, thus increasing her and Yukari's workload. In chapter 48, he asked Yukari to marry him, which she agrees.
Friendships
Amu Hinamori: While in disguise, he called Amu Himamori, as sort of a nickname. Amu also played a part in helping Nikaidou realize his dreams; she became Amulet Clover and restored robots filled with dark energy with Remake Honey. This act, in turn, restored his Heart's Egg.
Su: Su was the one who helped Nikaidou realize his childhood dreams to be a robotics professor. She has an admiration for Nikaidou and helps him, examples being cleaning his lab when she was kidnapped, giving him fresh coffee, and hugging the teacher when she can.
See also
Community content is available under
CC-BY-SA
unless otherwise noted.